Work. Store. Ship. Create.
Commercial Storage & Small Warehouse spaces designed for you.
Find the perfect warehouse space for your business
From start-ups to Fortune 500 businesses, we offer flexible warehousing space that scales with your business. Each space features an onsite manager, 24/7 security, and much more for one affordable, monthly rate.
Small Warehouse
Start-ups and first-time renters
A small size for:
1 – 2 employees
10 – 20 pallets
Under $1,000/month
Medium Warehouse
More space for growing businesses
A medium size for for:
1 – 4 employees
20 – 30 pallets
$1,000 – $1,500/month
Large Warehouse
Perfect for day-to-day operations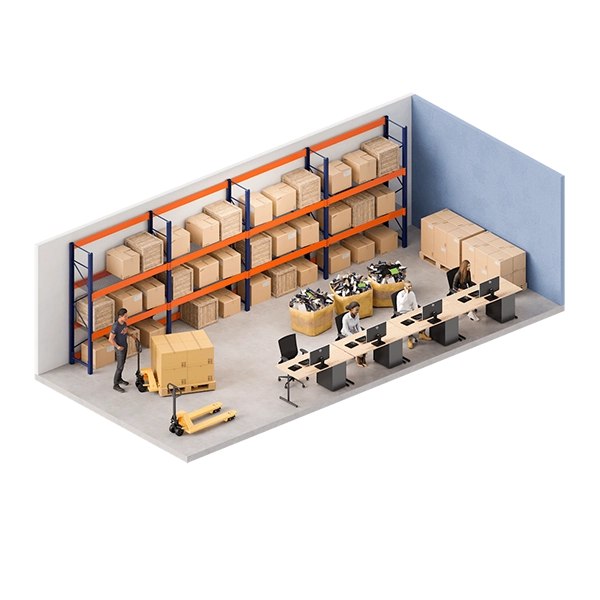 A large size for:
1 – 6 employees
30 – 40 pallets
$1,500 – $2,000/month
Extra Large Warehouse
Manage all logistics from one space
An extra large size for:
1 – 10 employees
40 – 60 pallets
Over $2,000/month
Scale your business with the right space
At WareSpace, small to medium sized businesses can thrive with the same efficiency and advantages of large corporations – without the big price tag.
Flexible spaces for changing businesses
Industrial racking for efficiency 
Climate controlled for maximum comfort
24/7 security and onsite support for peace of mind
Extra features and benefits without any extra fees
Small warehouse rentals for as low as $500
Where to find your WareSpace
View our current locations, conveniently located near where you live, work, and commute. Our national network of premium warehouses is growing fast. So you can rent one space locally, or open up satellite locations around the country.
Hear from our satisfied tenants
WareSpace is designed to empower small and medium-sized businesses. See how we helped these businesses thrive.
"WareSpace has enabled ArtJamz to complete our pivot from brick and mortar retail to e-commerce."
"Our warehouse has allowed us the room to manufacture, package, and fulfill orders for thousands of customers."
"I have been fortunate to grow my business and move into a larger space all with the help of WareSpace."
Your Portal to Warehouse Knowledge
Explore our comprehensive resource center filled with insights into all aspects of small warehousing solutions. Whether it's best practices, industry trends, or valuable guides to optimize your WareSpace, our collection serves as an information goldmine.
Join the thriving WareSpace community
We're about more than warehouses. Each WareSpace location is a community of energetic entrepreneurs, creating an excellent opportunity to network and build valuable alliances.
Join Our email List