Efficient Space, Smart Storage
Empower Your Business with Commercial Storage Units
Tailor-Made Flexible Storage Solutions for Your Business Needs
WareSpace provides uniquely designed, flexible commercial storage solutions, ensuring your business has the room it needs to grow and thrive efficiently.
Our Locations
Efficiently Expand Your Business with WareSpace
In today's fast-paced and dynamic business environment, having a storage solution that's not only spacious but also intelligently designed is crucial. At WareSpace, we understand that every business is unique, with distinct storage requirements. That's why we offer Flexible Storage Solutions, designed meticulously to meet the diverse needs of modern businesses. Whether you're looking to store products, documents, or equipment, our tailor-made storage units provide the perfect blend of space efficiency and smart features.
Small Warehouse
Start-ups and first-time renters
A small size for:
1 – 2 employees
10 – 20 pallets
Under $1,000/month
Medium Warehouse
More space for growing businesses
A medium size for for:
1 – 4 employees
20 – 30 pallets
$1,000 – $1,500/month
Large Warehouse
Perfect for day-to-day operations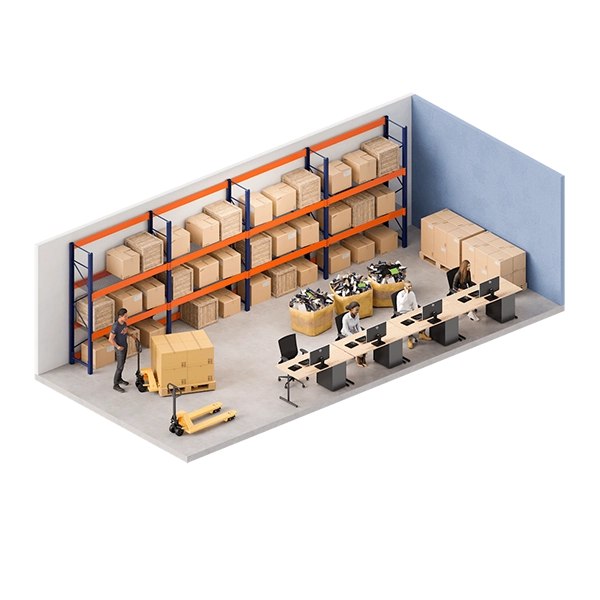 A large size for:
1 – 6 employees
30 – 40 pallets
$1,500 – $2,000/month
Extra Large Warehouse
Manage all logistics from one space
An extra large size for:
1 – 10 employees
40 – 60 pallets
Over $2,000/month
Your Ultimate Solution for Commercial Storage Needs
Discover unparalleled flexibility at WareSpace with our Commercial Storage Units tailored to encapsulate a wide range of business necessities. We offer more than a mere storage space; envision a haven where your products are not only stored but also managed with utmost efficiency. WareSpace units are designed to seamlessly integrate into your business model, offering a robust suite of features that are as dynamic and adaptable as your business. Whether you're safeguarding delicate goods, storing bulky equipment, or anything in between, our units are your hassle-free, dependable partner in safeguarding your valuables. Step into a world of intelligent storage solutions, crafted exclusively for the ambitious business of today.
MAIN ENTRY
LOADING DOCKS
CONFERENCE ROOMS
KITCHEN & LOUNGE
INDUSTRIAL RACKING
LOADING DOCKS
Commercial Storage Units near you.
Atlanta, Georgia
Downers Grove, Illinois
Eden Prairie, Minnesota
Mt. Laurel, New Jersey
Philadelphia, Pennsylvania
Houston, Texas
Lanham, Maryland
Interior Dock Doors: 2
Exterior Dock Doors: 2
Exterior Dock Doors: 2
Drive-in Doors: 4
Outlets In Every Unit
Conference Rooms
Kitchen
Racking
Dock Equipment
Unlock Limitless Possibilities with WareSpace
Experience unparalleled ease and confidence in expanding your business horizon with WareSpace. Our cutting-edge Commercial Storage Units are not just spaces; they're catalysts that drive your business forward, providing you with the freedom to explore, innovate, and execute. Each unit is meticulously designed with your business's dynamic needs in mind, offering a strategic advantage that empowers you to respond promptly to market demands.
Elevate your storage strategy with us and witness a transformation that goes beyond mere spatial solutions, delving deep into efficiency, reliability, and strategic advantage.
Commercial storage units for as low as $500
Extra features and benefits without any extra fees
Hear from our satisfied tenants
WareSpace is designed to empower small and medium-sized businesses. See how we helped these businesses thrive.
"WareSpace has enabled ArtJamz to complete our pivot from brick and mortar retail to e-commerce."
"Our warehouse has allowed us the room to manufacture, package, and fulfill orders for thousands of customers."
"I have been fortunate to grow my business and move into a larger space all with the help of WareSpace."