In the market for a small business warehouse? Warehouse sizes vary greatly and having too much or too little storage space can impact your bottom line. Choosing the right warehouse size will save you money and help you to streamline operations as you grow.
What is the average warehouse size?
The average warehouse size is nearly 17,500 square feet, with the majority of spaces ranging from 10,000 to 25,000 square feet. Some sizes are as small as 1,000 square feet or as big as over 500,000 square feet. Businesses, therefore, have numerous options to select from. Even the newest startup business can find a small warehouse space that fits its needs.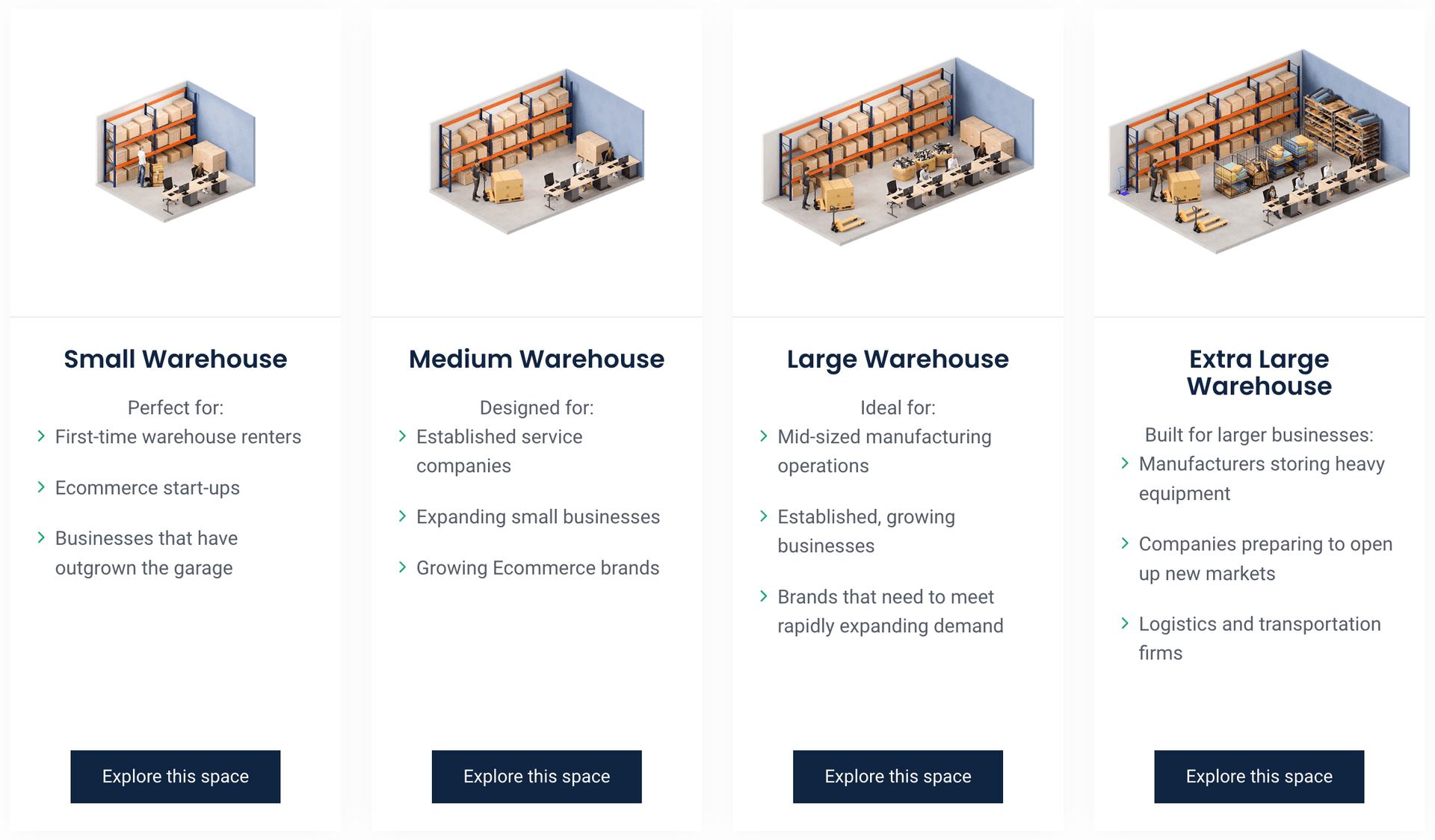 The Problem With Renting A Warehouse That's Too Large
Renting a warehouse space that's too large wastes money. Recently, rising demand and a lack of supply has caused increases in warehouse rental rates across the country. As of November 2022, rental rates in the U.S. for warehouses increased by 6.5% over the previous year. Southern California had double-digit rate increases of 10.7% in Los Angeles and 13.1% in the Inland Empire area.
Every square foot of your warehouse contributes to the total cost. Paying for unused warehouse space can cut into profits. Startup businesses may not survive with an increased strain on their operating budgets. Ineffective business planning, which includes poor budgeting, is a top cause of failure for small businesses. Small businesses and startups must avoid selecting storage options with space they won't use.
Issues With Not Renting Enough Warehouse Space
Having too little warehouse space contributes to clutter in the facility, poor storage techniques, and possible product damage. Working with a company that offers multiple warehouse sizes ensures that you can scale up only when it's right for your business.  
Factors to Consider When Selecting Among Warehouse Sizes
Businesses who are new to warehouses should consider several things when picking a warehouse size. Inventory and delivery requirements are probably the top two factors that influence warehouse space decision-making, but there are additional factors that can help you to choose.
Location, Location, Location
The location of your warehouse is vital — you should have a site that you can easily get to. Small businesses that operate locally will want a warehouse space located closest to where the majority of their customers are. Individuals who own small businesses that sell products at craft fairs, farmers markets, and artisan malls may select a warehouse close to these sites.
The location also impacts the total cost of renting the facility. Warehouse rental rates stem from local demand. As noted, areas of Southern California have some of the highest rental rate increases for warehouses. Business owners who can choose locations with lower rents while still meeting their business needs may save money.
Renting multiple small warehouse spaces throughout the country is a solution some businesses use to reduce shipping times. If you have a growing small business that sells goods nationwide through e-commerce sales, consider several small locations to distribute your inventory among for speedier deliveries.
Amenities
Rented small warehouse spaces have extra amenities to improve the return that businesses get from their space. Look for warehouse sizes that offer productivity aids. These may include loading docks, material moving equipment, industrial racking, secure wi-fi, limited warehouse access, on-site management, security, shared conference rooms, and electricity.
Accessibility
Accessibility indicates how easily products can arrive and leave your warehouse. Look for warehouse facilities near major roadways, with loading docks to accommodate a variety of truck sizes, well-kept roads in the area, access to public transportation for yourself or employees, and on-site parking.
Membership Terms and Rates
All shared warehouses have membership terms for renting spaces, and varying rates. Smaller spaces cost less than larger ones. All warehouse sizes should include in the rental rates the business's portion of the shared cost of facility management, utilities, and equipment.
A contractual commitment to a rented space is another aspect of membership to check. Contracts may require only a few months to years of membership. Small businesses that need greater flexibility in their warehouse use may benefit more from shorter-term contracts that allow them to change to larger or small facilities at the end of the term.
Product Sizes and Inventory Volume
How much space does each of your products require? How many products do you have available for sale in storage? What about the space required to prepare items for shipping? Do you have products that need extra room for preparation and packing? The answers to these questions will help you to choose between small and medium-sized warehouse spaces.
Generally, the best warehouse size for a startup company is the smallest. Small warehouse spaces give new businesses room to keep products as they become established. Over time, as the business grows and needs more space for storing inventory, it may move into a medium warehouse. Growing e-commerce companies and small businesses often find the room they need to expand in a medium warehouse. Large and extra-large warehouse spaces work best for well-established companies or manufacturers needing to store heavy equipment.
Improve Your Operations with the Right Warehouse
Choosing the right warehouse size gives your business a place where you can store, organize, and ship your inventory.
Storing your inventory in a space appropriately sized for your business needs ensures that you have just enough products on hand to fulfill customer orders. Plus, you won't waste space or money by having too many unsold goods on hand. This carefully balanced inventory management reduces your business's operating costs.
The right warehouse should provide you with industrial warehouse organization solutions, such as racking. Well-organized products are easy to locate quickly. Plus, you can easily keep track of the goods you have available through a warehouse management system. Knowing what you have and the amounts of available inventory help you to cut wasteful spending.
If you want to decrease shipping times, consider expanding your business to include multiple small warehouse spaces around the country. By shipping from a facility closer to the customer who placed the order, you can guarantee faster shipping.
The right warehouse space provides medium and small businesses with the attributes needed to improve operations and reduce wasted money and time.
Do You Know Which Warehouse Size You Need?
Does your business need a small warehouse space? Find out more about how the amenities at WareSpace can help your business optimize operations. We offer warehouse sizes that range from small to extra-large!