Houston, the sprawling Texan city, has become a focal point for businesses on the hunt for affordable and functional warehouse space. Warehouses, once just large storage units, now play a pivotal role in boosting the functionality and potential of local businesses. Enter WareSpace: the epitome of affordable, efficient warehousing in Houston, tailored to the nuanced needs of today's businesses.
Benefits of Opting for Small Warehouse Spaces in Houston
Houston's warehouse landscape offers unparalleled advantages for businesses. Delving deeper, it's clear that small warehouse spaces particularly stand out for several compelling reasons:
Cost-effective: Small warehouse space in Houston, Texas, offers a cost-effective solution for businesses. Without the massive overheads of large spaces, small businesses can focus their budgets on growth and development.
Flexibility: Every business is unique. Small warehouse spaces can be molded and adapted to cater to diverse business needs.
Accessibility: Being in Houston means your warehouse is close to both local markets and pivotal transport links, ensuring your goods move efficiently.
Embracing these benefits, businesses in Houston can capitalize on opportunities, optimize their operations, and achieve sustainable growth.
Diving into Shared Warehouse Spaces
Shared warehouse spaces have emerged as one of the most practical and innovative solutions in the modern business landscape. These spaces are a testament to the changing dynamics of warehousing, where collaboration and optimization are at the forefront.
The Rise of the Shared Model
Traditional warehousing often comes with fixed overheads, long-term leases, and underutilized spaces. The shared model addresses these inefficiencies. Multiple businesses share the same space, dividing not only the costs but also resources and amenities. This provides a cost-effective solution for businesses, especially startups and SMEs, allowing them to invest more in core operations.
Fostering Community and Collaboration
Sharing a warehouse space does more than just cut costs. It provides businesses with a unique opportunity to network, collaborate, and share insights with fellow tenants. This organic interaction can lead to new business opportunities, partnerships, and even collaborative ventures.
Leading the Revolution
While shared warehousing is gaining traction, WareSpace stands out with its unique approach. They're not just providing shared warehouse spaces in Houston, Texas; they're crafting a holistic experience. With a deep understanding of the local market, WareSpace ensures that its shared spaces are strategically located, well-maintained, and equipped with state-of-the-art amenities. Their focus is on creating an environment where businesses can thrive.
By embracing shared warehouse spaces through WareSpace, businesses in Houston not only benefit from cost savings but also position themselves within a vibrant community of local entrepreneurs, tapping into a pool of opportunities and shared knowledge.
Unique Features of WareSpace's Warehousing Solution
WareSpace, situated at the heart of Houston, offers a blend of mini warehouse units ranging from a compact 250 SF to spacious 2,000 SF spaces. Designed with versatility in mind, these units are ideal for businesses of all sizes and scopes, ensuring that:
Secure and Managed: With an onsite manager, 24/7 access, and state-of-the-art security, businesses can operate with peace of mind.
Climate Controlled with Modern Amenities: From a welcoming reception area to fully-equipped conference rooms and lounges, every space is designed for convenience.
All-Inclusive Monthly Pricing: At WareSpace, transparency is key. Starting at just $700 per month, businesses get a private warehouse space with all bills and utilities covered in a single flat fee.
Designed for Logistics: Features include loading docks, shipping stations, warehouse equipment, and industrial racking, ensuring that businesses have all they need to manage their operations.
Quick and Seamless Rental Process: WareSpace simplifies the rental journey. Tour the space, sign-up, and move in – all within the same day.
The property itself is a marvel, sprawling across 7.46 acres. A concrete tilt-wall structure, it offers the perfect blend of warehouse and office space, specially crafted for the entrepreneurial spirit of Houston's business community. With a 20′ clear height, 45 rear-loaded docks, three drive-ins, and a generous parking space of 194 slots, it's no surprise that businesses are thriving here.
Transforming Your Business with WareSpace: A Deep Dive into Houston's Premium Warehousing Solutions
Houston's dynamic business landscape requires innovative warehousing solutions. Entrepreneurs navigating this bustling metropolis are often in search of spaces that can cater to their multifaceted needs. Enter WareSpace – the game changer in modern warehousing.
Why Houston Businesses Thrive at 10795 Hammerly Boulevard Houston, Texas 77043
10795 Hammerly Boulevard is more than just an address; it's a thriving ecosystem designed for business success. Located in Northwest Houston's prestigious enclave, this space enjoys an unmatched proximity to both I-10 and downtown Houston. But WareSpace offers more than just a prime location.
Learn more about our Houston location.
Key Features of WareSpace's Houston Hub
In the bustling metropolis of Houston, WareSpace has emerged as an emblem of innovation, convenience, and business growth. This hub encapsulates the essence of modern warehousing, where every feature is meticulously crafted to foster efficiency and success. Here's a detailed look into the unique offerings of this prime location in Houston, Texas:
Versatility in Space: Offering a diverse range of mini warehouse units, from a compact 250 SF to an expansive 2,000 SF, WareSpace caters to businesses of all sizes.
Comprehensive Amenities: Equipped with an onsite manager, 24/7 access, top-notch security, a welcoming reception, fully-equipped conference rooms, lounges, and climate control, businesses are afforded every modern convenience.
Transparent Pricing: WareSpace believes in transparency. Starting at a competitive $700 per month, businesses can avail a private warehouse space with all utilities bundled into a singular monthly fee.
Logistics-Focused Design: Every facet of the warehouse, from loading docks and shipping stations to state-of-the-art equipment and industrial racking, is tailored to streamline business operations.
Rapid Onboarding: Time is money, and WareSpace understands this. Their streamlined process ensures businesses can tour, sign up, and move in, all within a single day.
Spanning a sprawling 7.46 acres, the property is an architectural masterpiece. Its concrete tilt-wall structure, 20′ clear height, 45 rear-loaded docks, three drive-ins, and a spacious parking area with 194 slots, make it a sought-after destination for Houston's ambitious business community.
Houston's Pulse at Your Doorstep
Ensuring businesses are always connected, the strategic location of 10795 Hammerly Boulevard provides:
Transit/Subway Stops: Access to multiple METRO Rail Redline stops within 24 minutes, such as the Cavalcade and Lindale Park Transit Stops.
Air Travel: Proximity to major airports, with Houston George Bush Intercontinental Airport just 31 minutes away and William P. Hobby Airport within a 43-minute drive.
Ports and Railroads: The renowned Port of Houston is a swift 37-minute drive, and TENCON INDUSTRIES, INC.-HOUSTON-TX is accessible in 19 minutes.
Being situated in this prime locale is more than just a geographical advantage. It signifies being at the nexus of Houston's vibrancy and growth. With unparalleled access to the city's key transportation hubs, businesses at 10795 Hammerly Boulevard are positioned not just to survive, but thrive in this dynamic environment.
WareSpace is More Than Just a Space
WareSpace's vision goes beyond renting out space. By managing a nationwide network of micro-industrial units that offer a range of services from warehouse management to on-demand labor, they've positioned themselves as a beacon of support in the business community.
Their all-inclusive offerings – spanning electric, WiFi, cleaning, and building management – underscore their commitment to businesses. With options to transition to larger units as businesses expand, WareSpace isn't just a provider; they're a partner in growth.
Learn more about our Fort Worth location.
Navigating Houston's Business Landscape
In the pulsating heart of Houston's flourishing business landscape, WareSpace stands as an unwavering pillar of support for growing businesses. Their unyielding commitment to scalability ensures that as businesses expand, they consistently find the tailored space and resources they need, right when they need them. This dedication isn't limited to Houston alone; WareSpace's ambitious vision spans across cities and regions, heralding a bright future for adaptable warehouse spaces throughout the USA.
The city of Houston, rich in entrepreneurial spirit, brims with opportunities waiting to be seized. For those poised to elevate their business journey with WareSpace, a curated suite of resources specifically designed for Houston awaits. With WareSpace by your side, businesses in Houston are not merely existing — they're thriving. Book a tour today!
In the market for a small business warehouse? Warehouse sizes vary greatly and having too much or too little storage space can impact your bottom line. Choosing the right warehouse size will save you money and help you to streamline operations as you grow.
What is the average warehouse size?
The average warehouse size is nearly 17,500 square feet, with the majority of spaces ranging from 10,000 to 25,000 square feet. Some sizes are as small as 1,000 square feet or as big as over 500,000 square feet. Businesses, therefore, have numerous options to select from. Even the newest startup business can find a small warehouse space that fits its needs.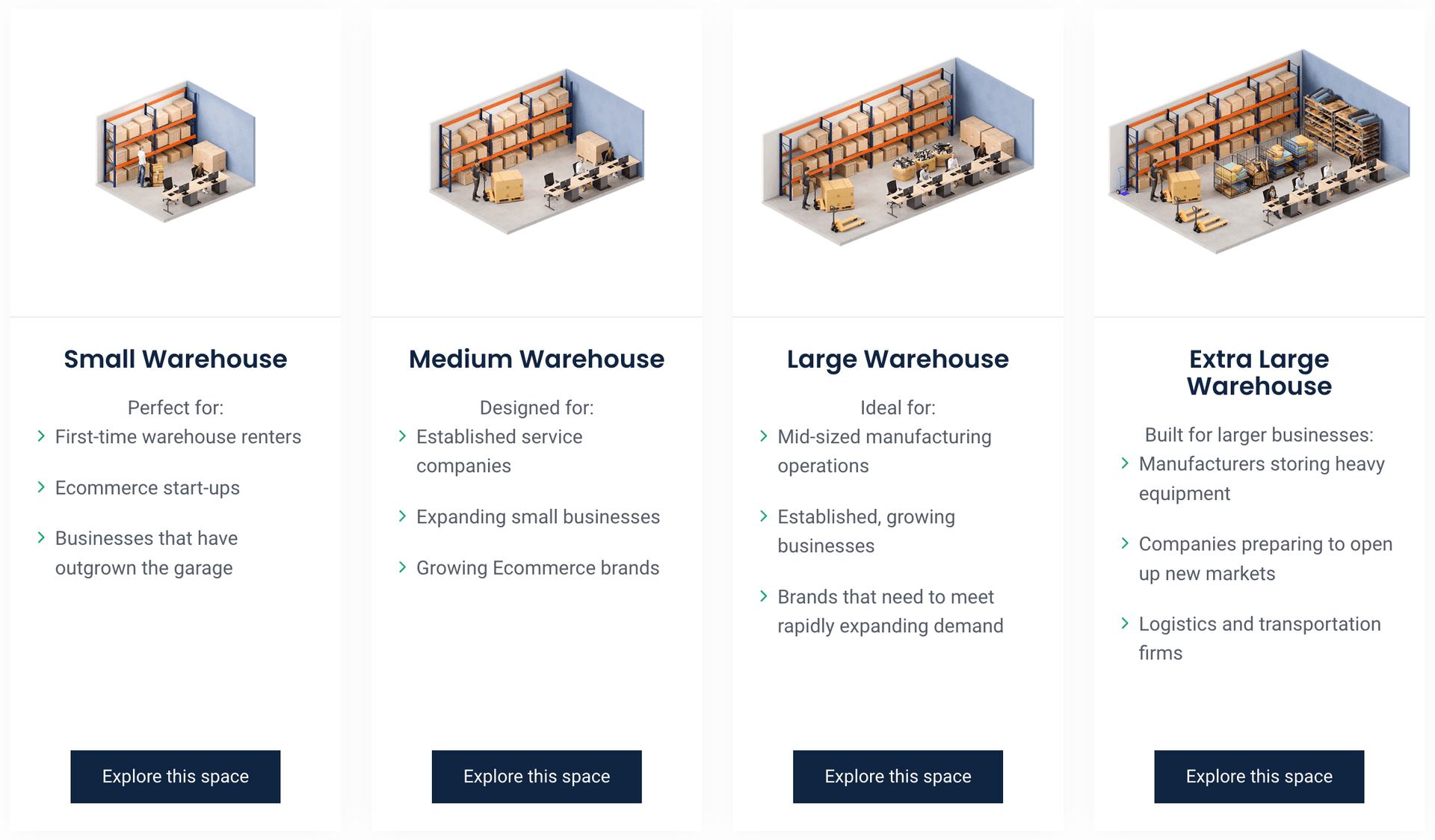 The Problem With Renting A Warehouse That's Too Large
Renting a warehouse space that's too large wastes money. Recently, rising demand and a lack of supply has caused increases in warehouse rental rates across the country. As of November 2022, rental rates in the U.S. for warehouses increased by 6.5% over the previous year. Southern California had double-digit rate increases of 10.7% in Los Angeles and 13.1% in the Inland Empire area.
Every square foot of your warehouse contributes to the total cost. Paying for unused warehouse space can cut into profits. Startup businesses may not survive with an increased strain on their operating budgets. Ineffective business planning, which includes poor budgeting, is a top cause of failure for small businesses. Small businesses and startups must avoid selecting storage options with space they won't use.
Issues With Not Renting Enough Warehouse Space
Having too little warehouse space contributes to clutter in the facility, poor storage techniques, and possible product damage. Working with a company that offers multiple warehouse sizes ensures that you can scale up only when it's right for your business.  
Factors to Consider When Selecting Among Warehouse Sizes
Businesses who are new to warehouses should consider several things when picking a warehouse size. Inventory and delivery requirements are probably the top two factors that influence warehouse space decision-making, but there are additional factors that can help you to choose.
Location, Location, Location
The location of your warehouse is vital — you should have a site that you can easily get to. Small businesses that operate locally will want a warehouse space located closest to where the majority of their customers are. Individuals who own small businesses that sell products at craft fairs, farmers markets, and artisan malls may select a warehouse close to these sites.
The location also impacts the total cost of renting the facility. Warehouse rental rates stem from local demand. As noted, areas of Southern California have some of the highest rental rate increases for warehouses. Business owners who can choose locations with lower rents while still meeting their business needs may save money.
Renting multiple small warehouse spaces throughout the country is a solution some businesses use to reduce shipping times. If you have a growing small business that sells goods nationwide through e-commerce sales, consider several small locations to distribute your inventory among for speedier deliveries.
Amenities
Rented small warehouse spaces have extra amenities to improve the return that businesses get from their space. Look for warehouse sizes that offer productivity aids. These may include loading docks, material moving equipment, industrial racking, secure wi-fi, limited warehouse access, on-site management, security, shared conference rooms, and electricity.
Accessibility
Accessibility indicates how easily products can arrive and leave your warehouse. Look for warehouse facilities near major roadways, with loading docks to accommodate a variety of truck sizes, well-kept roads in the area, access to public transportation for yourself or employees, and on-site parking.
Membership Terms and Rates
All shared warehouses have membership terms for renting spaces, and varying rates. Smaller spaces cost less than larger ones. All warehouse sizes should include in the rental rates the business's portion of the shared cost of facility management, utilities, and equipment.
A contractual commitment to a rented space is another aspect of membership to check. Contracts may require only a few months to years of membership. Small businesses that need greater flexibility in their warehouse use may benefit more from shorter-term contracts that allow them to change to larger or small facilities at the end of the term.
Product Sizes and Inventory Volume
How much space does each of your products require? How many products do you have available for sale in storage? What about the space required to prepare items for shipping? Do you have products that need extra room for preparation and packing? The answers to these questions will help you to choose between small and medium-sized warehouse spaces.
Generally, the best warehouse size for a startup company is the smallest. Small warehouse spaces give new businesses room to keep products as they become established. Over time, as the business grows and needs more space for storing inventory, it may move into a medium warehouse. Growing e-commerce companies and small businesses often find the room they need to expand in a medium warehouse. Large and extra-large warehouse spaces work best for well-established companies or manufacturers needing to store heavy equipment.
Improve Your Operations with the Right Warehouse
Choosing the right warehouse size gives your business a place where you can store, organize, and ship your inventory.
Storing your inventory in a space appropriately sized for your business needs ensures that you have just enough products on hand to fulfill customer orders. Plus, you won't waste space or money by having too many unsold goods on hand. This carefully balanced inventory management reduces your business's operating costs.
The right warehouse should provide you with industrial warehouse organization solutions, such as racking. Well-organized products are easy to locate quickly. Plus, you can easily keep track of the goods you have available through a warehouse management system. Knowing what you have and the amounts of available inventory help you to cut wasteful spending.
If you want to decrease shipping times, consider expanding your business to include multiple small warehouse spaces around the country. By shipping from a facility closer to the customer who placed the order, you can guarantee faster shipping.
The right warehouse space provides medium and small businesses with the attributes needed to improve operations and reduce wasted money and time.
Do You Know Which Warehouse Size You Need?
Does your business need a small warehouse space? Find out more about how the amenities at WareSpace can help your business optimize operations. We offer warehouse sizes that range from small to extra-large!