Fort Worth, TX
University South
Discover Small Warehouse Spaces for Your Business
WareSpace Fort Worth presents the opportunity to position your business within 15 minutes of Downtown Fort Worth and access to all of WareSpace's industry-leading amenities. Located minutes from TCU's campus, 3131 W Bolt Street has quick and easy access to Interstate 20 and 35W.
3131 West Bolt Street
Fort Worth, TX 76110
Explore this location in 3D
Theone-stopshop for all your small warehousing needs
WareSpace is the premier, affordable choice for businesses looking for small warehouse space in Forth Worth. Our warehouses are designed to offer a premium experience without the premium price tag. WareSpace facilities are built for companies that want a small warehouse space that does more than just store products. The University South flexible warehouse provides loading docks, office space, package receiving and shipping, and other advantages. Pick from one of our flexible warehouse storage options in Fort Worth, Texas.
Small Warehouse
Start-ups and first-time renters
A small size for:
1 – 2 employees
10 – 20 pallets
Under $1,000/month
Medium Warehouse
More space for growing businesses
A medium size for for:
1 – 4 employees
20 – 30 pallets
$1,000 – $1,500/month
Large Warehouse
Perfect for day-to-day operations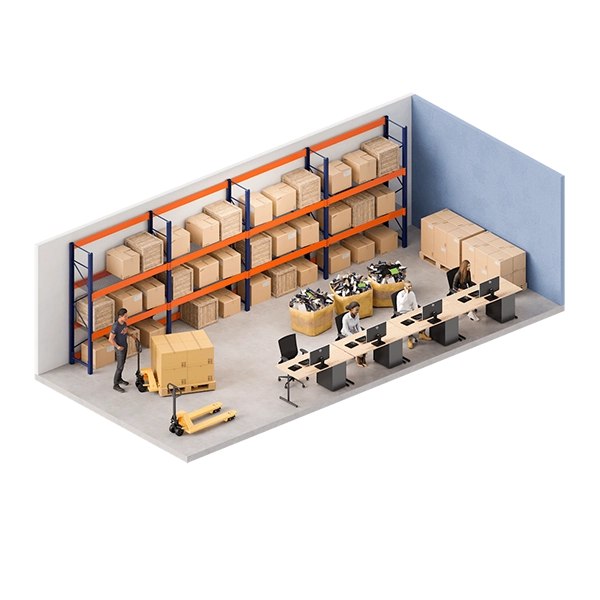 A large size for:
1 – 6 employees
30 – 40 pallets
$1,500 – $2,000/month
Extra Large Warehouse
Manage all logistics from one space
An extra large size for:
1 – 10 employees
40 – 60 pallets
Over $2,000/month
MAIN ENTRY
LOADING DOCKS
CONFERENCE ROOMS
KITCHEN & LOUNGE
INDUSTRIAL RACKING
LOADING DOCKS
Small Warehouse space in Fort Worth TX.
Texas And Pacific Transit Stop: 6.0 mi
Fort Worth ITC Transit Stop: 6.8 mi
Richland Hills Transit Stop: 14.0 mi
Dallas/Fort Worth International Airport: 30.9 mi
Dallas Love Field Airport: 39.5 mi
Port of Shreveport: 231.2 mi
AMSCO STEEL TRANSPORTATION COMPANY: 1.3 mi
Drive-In Bays: 1
Exterior Dock Doors: 10
Standard Parking Spaces: 42
Outlets In Every Unit
Conference Rooms
Kitchen
Racking
Dock Equipment
Small warehouse rentals for as low as $650
Extra features and benefits without any extra fees
Hear from our satisfied tenants.
WareSpace is designed to empower small and medium-sized businesses. See how we helped these businesses thrive.
"WareSpace has enabled ArtJamz to complete our pivot from brick and mortar retail to e-commerce."
"Our warehouse has allowed us the room to manufacture, package, and fulfill orders for thousands of customers."
"I have been fortunate to grow my business and move into a larger space all with the help of WareSpace."